Fat Baby.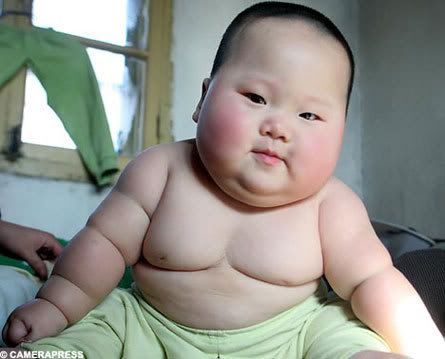 Little Jin from China has to be one of the cutest babies I've seen, but damn! Jin was born weighing in at around 7 pounds, but his weight quickly ballooned. He's only 8-months old and weighs around 41-pounds.
His mother said he started gaining weight almost immediately. She said she has to nurse him around 20 times a day, because he gets hungry. Unfortunately, the poor thing can't crawl or walk, because of his weight.
The article from the
Daily Mail
didn't say anything about him having a medical condition. His mother needs to look into it, because that ain't right. Stop feeding him 20 times a day and take him to the doc!
Jin is still not the biggest baby in the world. A few years ago a woman in Italy gave birth to a 28-pound baby. I think her insides are still recovering. A coule of months ago a woman in Siberia gave birth to a 17-pound baby.
Jin is a darling and hopefully his mother sorts out his medical situation STAT before he eats her out of house and home! Literally.